I Lost My Dog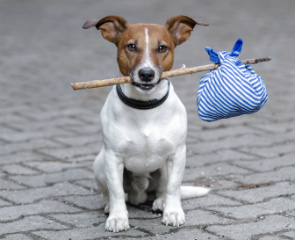 Why Pets Run Away and Where They Often Go
By:Alan Grosbard
Normally, pets run away from acute boredom or loneliness, to answer sexual urges if they have not been neutered, in response to sudden and unexpected events that frighten them, out of curiosity if doors, windows or gates are left open, or if they are new to a home and are looking for their former surroundings.
How far they run is just a function of how far their legs will carry them. Big strong dogs, especially young ones, can run 5 miles or more. Small dogs may be able to go half a mile at most. Most dogs are recovered well within a two-mile circle of their home, especially because they normally will never run for an extended length in a straight line no matter how strong or fast they are.
If it is an outgoing dog, it will be looking for other dogs and for other humans who are friendly and likely to comfort, feed and shelter it. Neighbors' yards and public parks are spots it will like. If it is a shy or older pet and not trusting of strangers, it will hide. Bushes and under cars are good spots.
Most likely, your pet will have tried to return home, but it will have failed. In a certain minority of cases, the dog has been in harm's way. A car or a predator will have gotten to it. Odds are much greater that someone has seen your pet and taken it in.
Let me explain that some 40% of households have pets. People in those homes will respond favorably to a lost pet. More households do not have a pet but include someone who previously had a pet. Strong chance of positive response. More households again do not have a pet but have children, who will be eager to take in a lost pet. That is a lot of eyes and ears. That is a lot of strangers who are on the side of finding and helping your pet return home.
In many cases, someone will take in your pet. They will be driving by and have your dog jump in their car. They will be working in the neighborhood. They may live down the street. More often than not, they will not be equipped to house your pet. Their home is not set up. Their parents will not allow it. They don't want to bring a strange dog into the yard with their dogs.
If you have a tag on your dog with a current phone number including area code, that has a working answering machine or voice mail on it, or a street address including city and state, and if your dog is found with its collar and tag still on it, then you have made the job of your pet coming back to you much easier. More current information, less work.
Maybe the collar has come loose. Maybe someone with good intentions has changed it. Sometimes they have placed the dog in their yard. Still confused and looking for home, the dog has run away again. Again, the pet has moved further away and lost more of its identity to you, to your house, to your street.
People take lost pets to local veterinarians, animal hospitals, kennels, groomers, even pet stores. They take them to animal shelters (which are sometimes distant and have restricted operating hours) and to rescue organizations. If found with a tag with current information, it makes the return to you straight forward. If found without the tag, unless the dog is taken to the local shelter at which you have registered it as missing, it is just a puzzle that will get solved when there is time and opportunity to try and solve it.
Sometimes, and only rarely, do people try to keep a pet that is not theirs. There are neighbors, friends, children, and all the people who come to a home to service its needs that have the opportunity to see that pet. That is a lot of eyes seeing a new pet arrive.
We live in a mobile society. Few places any more are distant from major roads. If a dog is found that has gotten away from a car, it can be in another car and in the next county within less than a hour in almost all instances.
How do you cover all these possibilities? How do you help put the odds back into your favor?