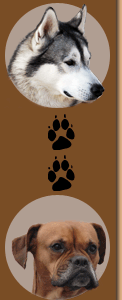 Lost Dog Search & Rescue
How to Catch a Dog with a Live Trap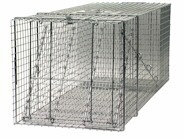 Trapping & Feeding Stations
Before I get into trapping I wanted to take a minute to say everyone that every trapper has their own way of doing things. I very seldom use feeding stations if you do not have a trail cam on the feeding station you will never know what is eating the food. multiple feeding stations are needed to find out where a dog is located in a wooded area and once you find out all the stations need to be taken down immediately and replaced with a trap.
I have seen people place a trap then tie it open or keep it closed and put a trail cam on it, they say it to get the dog used to the trap, In my eyes this is a HUGE mistake and something done by people with little experience in the trapping field. If you put out a trap then SET IT! why would you want a dog to go in and out of the trap without setting it off and catching the dog, to me this is a waist of valuable time, once the dog walks away you will not know if its coming back and you are taking a chance that if your in a heavily populated area that the dog might get into trouble by going into the street and getting hit by a car. Bottom line is use COMMON SENSE on where you place your trap and how to bait it and make sure either you or someone else can monitor the trap once set
Using a Live Trap:
Keep the trap set during the daytime hours, you are more likely to catch your pet in the daylight. Dogs are NOT nocturnal and will start to forage for food in the early morning hours and mostly during the day and seek shelter at night, (feral dogs are a bit different, the best time to trap a feral dog is at night). I'm not saying you will not catch your dog at night but you are more likely to catch skunks and possums in the night time hours. If you do set your trap at night check it late at night and early in the morning.
A trap should only be set if your dog has been seen hanging around the same area several times

If your dog has been spotted, place the trap in the area it was last seen if not then place your trap off the beaten path so your dog will feel more secure in entering it

Make sure you have a clear path leading to the trap, if the path is hard to get to or in an area with brush and sticker bushes your dog may avoid it.

Use hotdogs or cooked chopped meat as bait, make a trail outside the trap leading into it, hotdogs and chopped meat are very aromatic to a dogs sense of smell.

If you do decide to set a trap make sure you check it every several hours for the safety and comfort of whatever is trapped in it.

No matter where you put your trap, place your Lost Dog Flyer, with a reach number, close by so if someone does stumble across it you can be notified immediately if the trap is occupied and if its not occupied people will know what the trap is for.

Multiple Feeding Stations are not a good idea when using a trap unless you can monitor them to see what is eating the food, once you find out all the feeding stations should be removed except for the one the dog is eating out of. Its also is not a good idea to leave multiple feeding stations up because it gives the dog other options and you want to keep the dog in the area you plan on trapping them in. You need to keep the dog hungry so it will go into a trap even though they are a little uncomfortable with it. If the lost dog knows there are other food sources then it will just go to one of the food stations it feels more comfortable at. Use 1 feeding station where you plan on putting the trap and if you have a trail camera set it up to make sure the dog your planning to trap is what is eating the food. Remove the food station and replace it with the trap ( I personally do not use feeding stations, when I know a lost dog is in a specific area I place the trap in an out of the way place and use a bread crumb trail of pieces of hot dog to lead the dog toward the trap) I also use a spray bottle filled with water and beef bullion to spray the area to entice the dog toward the trail of hot dogs. I do not believe it is a good idea to spend days trying to pre bait the trap, I want the dog trapped ASAP to keep it safe and off the streets but others may disagree, everyone that traps has their own method I'm only stating what works the best for me.
---
If you plan on using a trap, WATCH THE COMPLETE VIDEO. You have 1 chance to do it right so understand what's being said, there are no short cuts!